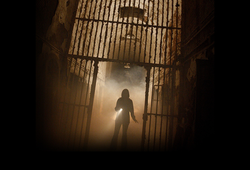 Did you know about America's largest haunted house? It's in an actual prison!
http://www.dreadcentral.com/…/terror-behind-walls-2015-pre…/
When I was working towards my fine art degree at UNM they had an art installation at this abandoned prison. I was so inspired by the concept and the haunting images of some of the artists that participated in this show that I began to develop ideas around having my own art installation. Although I didn't end up with a fine art degree, I did end up with what is The Barn Haunt. A place that I can create an experience that you can hear, smell and see (not touch, I don't like it when you touch lol) a walk through space that incorporates all of the things that I love. Halloween, art, installation work, dark images that I find beautiful and an outlet to create.