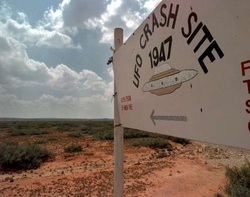 When I was growing up in Roswell NM this UFO incident was never talked about and defiantly not a tourist attraction.


The Roswell UFO Incident - 66 Years ago! The Roswell UFO incident took place in the USA in 1947, when an airborne object crashed on a ranch near Roswell, New Mexico, on July 7, 1947.

Explanations of what actually took place are based on both official and unofficial communications. The most popular theory of what happened is that the object was a spacecraft containing extraterrestrial life.

On July 8, 1947, the Roswell Army Air Field (RAAF) public information officer Walter Haut in Roswell, New Mexico, issued a press release stating that personnel from the field's 509th Operations Group had recovered a "flying disk", which had crashed on a ranch near Roswell.

Later that day, the press reported that Commanding General of the Eighth Air Force Roger Ramey had stated that a weather balloon was recovered by the RAAF personnel.

In 1978, physicist and ufologist Stanton T. Friedman interviewed Major Jesse Marcel who was involved with the original recovery of the debris in 1947. Marcel expressed his belief that the military covered up the recovery of an alien spacecraft.

In 1989, former mortician Glenn Dennis put forth a detailed personal account, wherein he claimed alien autopsies were carried out at the Roswell base.

In 1999, a British man stunned the world by releasing video of the alien autopsy that he said he had acquired from a source within the U.S. military. A few years later the man admitted that he had made the video himself, but he insisted that it was a recreation of actual footage of the alien autopsy which was destroyed when the original film was exposed to air.