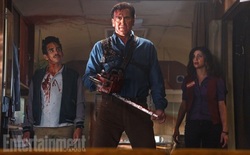 Starz has released the first image of Bruce Campbell in
Ash vs. Evil Dead.
Campbell is reprising he role he played in Sam Raimi's series of cult horror films, including
Evil Dead
and
Army of Darkness
.
According to Raimi, Ash is once again inadvertently responsible for the coming apocalypse.
"He's the only one stupid enough to really tamper with those spirits," Raimi tells
EW
. "And he does. But he's also still a really good monster fighter. So, he's also going to be kicking some deadite buttocks, if you'll pardon the French."
"It's
The Searchers
with carnage and mayhem," Campbell added. "I'm relegated a little bit into the John Wayne mode these days with my team—the young, virile, evil fighters who will pair up with Ash and take on this nemesis: this never ending, ever evolving nemesis."
Ash vs. Evil Dead
will premiere on Starz in 2015.